Recent News
Below are news articles about Clarksdale and Coahoma County economic development activities and other related features. Contact us to see what we can do for you. Come join us at the Crossroads!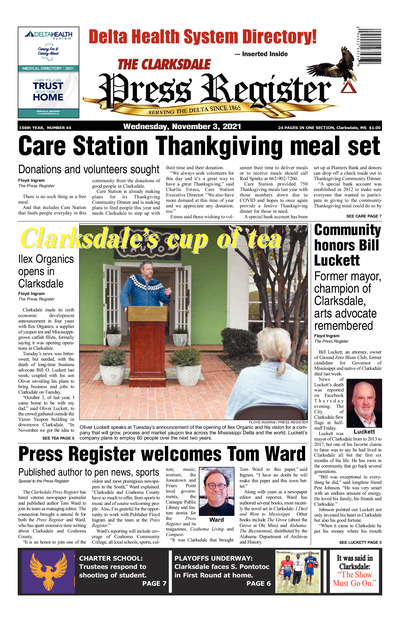 Ilex Organics opens in Clarksdale
November 3, 2021 - Clarksdale made its sixth economic development announcement in four years with Ilex Organics, a supplier of yaupon tea and Mississippi-grown catfish fillets, formally saying it was opening operations in Clarksdale. Tuesday's news was bitter-sweet, but needed, with the death of long-time business advocate Bill O. Luckett last week,...

Read More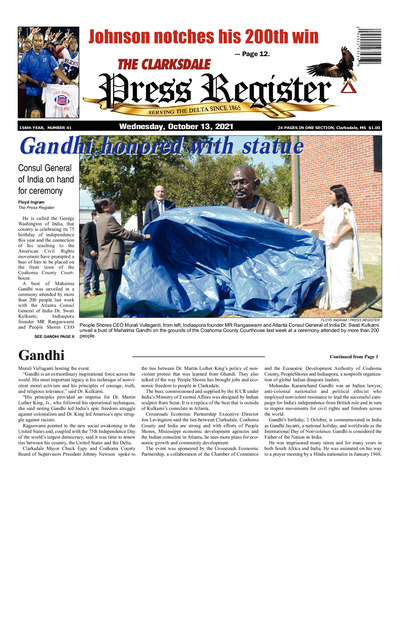 Gandhi honored with statue
October 13, 2021 - He is called the George Washington of India, that country is celebrating its 75 birthday of independence this year and the connection of his teaching to the American Civil Rights movement have prompted a bust of him to be placed on the front lawn of the Coahoma County Courthouse. A bust...

Read More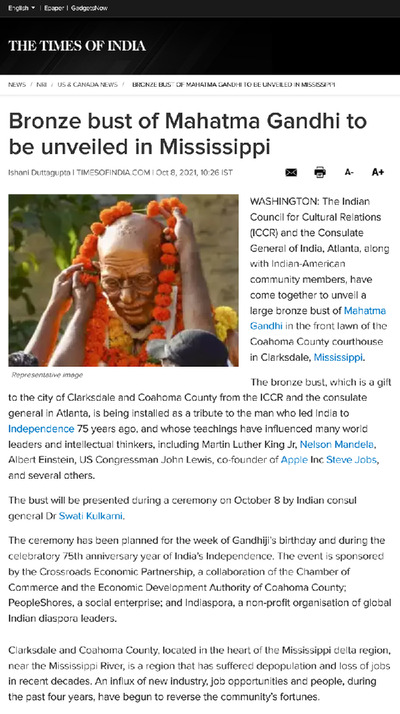 Bronze bust of Mahatma Gandhi to be unveiled in Mississippi
October 8, 2021 - WASHINGTON: The Indian Council for Cultural Relations (ICCR) and the Consulate General of India, Atlanta, along with Indian-American community members, have come together to unveil a large bronze bust of Mahatma Gandhi in the front lawn of the Coahoma County courthouse in Clarksdale, Mississippi. The bronze bust, which is a...

Read More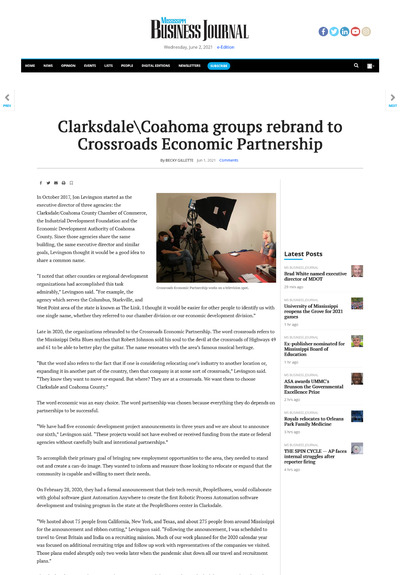 Clarksdale/Coahoma groups rebrand to Crossroads Economic Partnership
June 2, 2021 - In October 2017, Jon Levingston started as the executive director of three agencies: the Clarksdale/Coahoma County Chamber of Commerce, the Industrial Development Foundation and the Economic Development Authority of Coahoma County. Since those agencies share the same building, the same executive director and similar goals, Levingston thought it would be...

Read More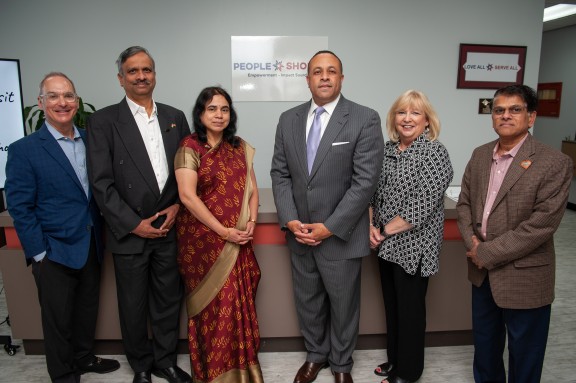 Consul General of India visits PeopleShores
April 21, 2021 - Dr. Swati Kulkarni, Consul General of India/Atlanta, recently visited the outsource company, PeopleShores, in Clarksdale. There, she was greeted by PeopleShores Chairman, Murali Vullaganti, Clarksdale Mayor Chuck Espy, and Jon Levingston, Executive Director of the Crossroads Economic Partnership. Dr. Kulkarni toured two facilities, observing over 120 employees performing work for...

Read More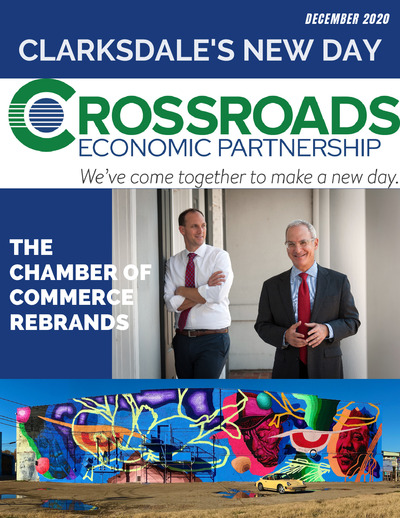 Why Rebrand?
December 24, 2020 - The Clarksdale/Coahoma County Chamber of Commerce and Industrial Foundation and Economic Development Authority of Coahoma County recently decided to rebrand. The organizations collectively will be known, for marketing purposes, as the Crossroads Economic Partnership. You may ask: Why create a new name? Why rebrand? What does this practically mean...

Read More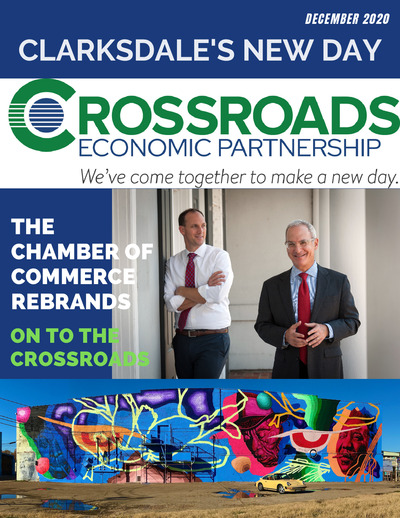 The Chamber of Commerce/EDA Rebrands
December 22, 2020 - The Clarksdale Chamber of Commerce and Industrial Foundation Launches New Brand Identity, Marketing Tools. The Clarksdale Coahoma County Chamber of Commerce and Industrial Foundation and the Economic Development Authority of Coahoma County collectively has a new name and a new marketing direction, according to Jon Levingston, the organizations' executive...

Read More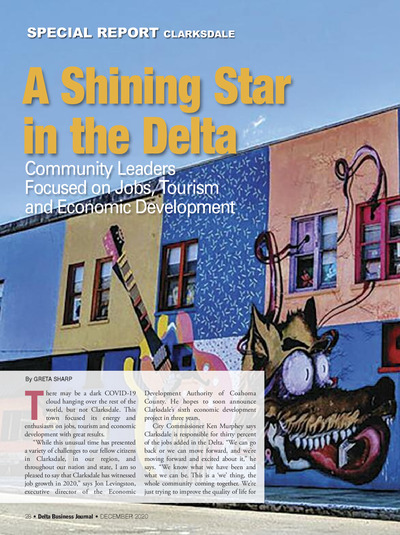 A Shining Star in the Delta
December 16, 2020 - Clarksdale Community Leaders are focused on Jobs, Tourism, & Economic Development. There may be a dark COVID-19 cloud hanging over the rest of the world, but not Clarksdale. This town focused its energy and enthusiasm on jobs, tourism, and economic development with great results. "While this unusual time has...

Read More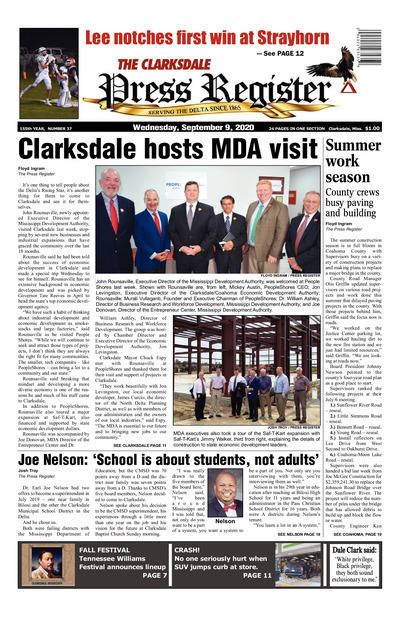 Clarksdale hosts MDA visit
September 9, 2020 - It's one thing to tell people about the Delta's Rising Star, it's another thing for them to come to Clarksdale and see it for themselves. John Rounsaville, newly appointed Executive Director of the Mississippi Development Authority, visited Clarksdale last week, stopping by several new...

Read More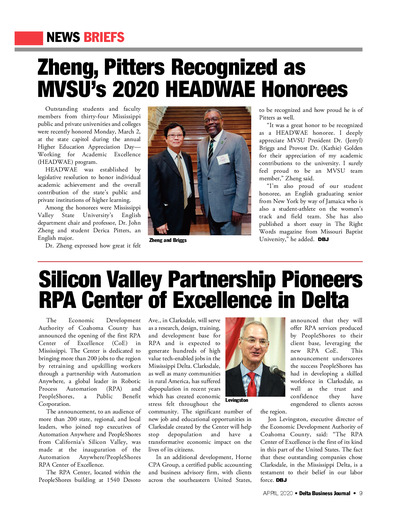 Silicon Valley Partnership Pioneers RPA Center of Excellence in Delta
April 6, 2020 - The Economic Development Authority of Coahoma County has announced the opening of the first RPA Center of Excellence (CoE) in Mississippi. The Center is dedicated to bringing more than 200 jobs to the region by retraining and upskilling workers through a partnership with Automation Anywhere, a global leader in Robotic Process...

Read More