Consul General of India visits PeopleShores
April 21, 2021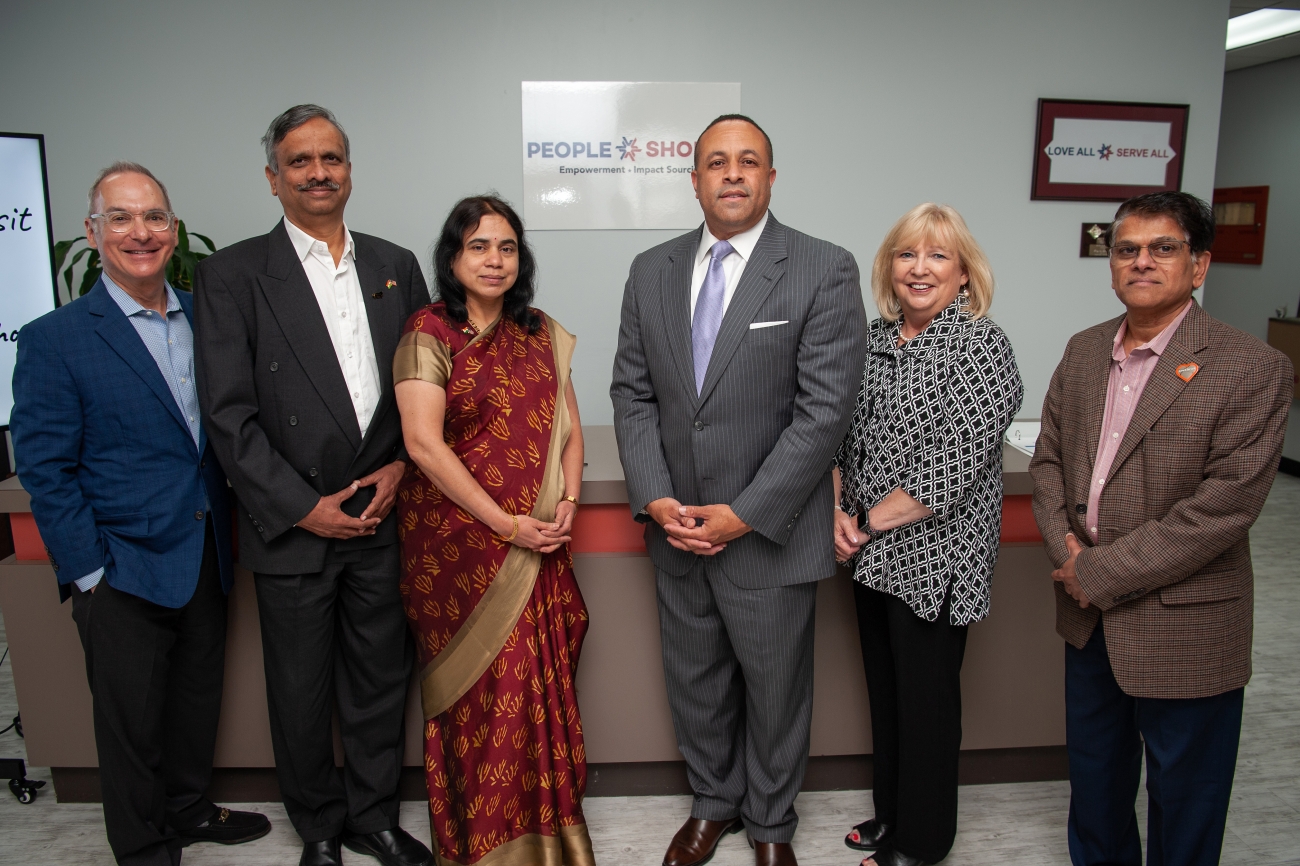 Dr. Swati Kulkarni, Consul General of India/Atlanta, recently visited the outsource company, PeopleShores, in Clarksdale. There, she was greeted by PeopleShores Chairman, Murali Vullaganti, Clarksdale Mayor Chuck Espy, and Jon Levingston, Executive Director of the Crossroads Economic Partnership. Dr. Kulkarni toured two facilities, observing over 120 employees performing work for several companies.
PeopleShores' Chairman had invited Dr. Kulkarni to Clarksdale to observe firsthand the work his company accomplished in the Mississippi Delta. PeopleShores performs outsource work for major corporations, as well as state, regional, and local municipal agencies. While PeopleShores' founder and Chairman of the Board, Vullaganti, was born in India, he began his career in the United States working on Wall Street for Electronic Data Systems, one of the original global outsource companies founded by Ross Perot. Following his tour with EDS, he cofounded Rural Shores in India in 2008. Rural Shores employees over 3,000 people in several Indian states. In 2017, he founded the US version of the company, PeopleShores, in San Jose, California. The Clarksdale center opened in 2019, and new centers are scheduled to open in Arkansas and New York.
During her visit to the PeopleShores Center in Clarksdale, Consul General of India Dr. Swati V. Kulkarni, said she was overwhelmed by the hospitality extended to her by the PeopleShores executives and employees, as well as by Clarksdale Mayor Chuck Espy, Crossroads Economic Partnership Executive Director Jon Levingston, and PeopleShores Founder and Chairman Murali Vullaganti.
Dr. Kulkarni observed, "It is amazing to witness the growth of Rural Shores in India, growing over the last 10 years to over 3,000 employees in 13 centers across 8 states. I have no doubt that the US based PeopleShores will enjoy the same success as the India based model."
"PeopleShores and Murali Vullaganti are bringing high class tech jobs to rural America, uplifting the economy and providing job and educational opportunities to the great State of Mississippi. I am proud to witness this happening in Clarksdale and look forward to closer ties between India, the State of Mississippi, and Clarksdale."
When presenting welcoming gifts to Dr. Kulkarni and her husband, Vijay, Jon Levingston said, "It is a great honor to welcome the esteemed Consul General and her husband to Clarksdale. Our nations have a shared destiny, and our mutual democratic values enable us to enjoy a global strategic partnership. It is through visits and meetings such as this one that relationships develop on a local level that create and enable the platform for future collaboration that will benefit us all. I must add that making friends with Dr. Kulkarni and her husband means so very much to me and I consider it such a great privilege."
Mayor Espy graciously welcomed Dr. Kulkarni to her first visit to Clarksdale. He said, "We are so pleased to have you come to Clarksdale to visit this extraordinary company and our community. PeopleShores has illustrated to us that our workers are as capable as any people anywhere. Our rural community is doing better because PeopleShores is here. We wish for greater ties between our two nations and, especially for Clarksdale. This visit is a wonderful way to begin that process. "
PeopleShores Chairman, who initiated the visit, said, "I, along with the entire PeopleShores family, are deeply grateful to Dr. Kulkarni for visiting our Clarksdale operation. Our mission is to create jobs and transform lives for the better. We are accomplishing that in Clarksdale and the Mississippi Delta and, we are very proud to share that success with Dr. Kulkarni."
The service area for the Consulate in Atlanta serves several states and territories, including South Carolina, Georgia, Alabama, Mississippi, Tennessee, the US Virgin Islands, and Puerto Rico. Dr. Kulkarni is a career diplomate who hold a Bachelor of Medicine and a Bachelor of Surgery from the prestigious Government Medical College in Nagpur, India. While she joined the foreign service in 1995, she has served in Atlanta since 2018. She has served in posts in various countries, including Great Britain, the Holy See, Spain, Greece, Switzerland, Ireland, Portugal, South Africa, Oman, and Spain.
For additional information, please contact:
Jon Levingston
Executive Director
Crossroads Economic Partnership
(662) 902-4968
Jon.levingston@crossroadspartnership.com